BEAUTIFUL CREATURE - Age Defying Skin Cell Protection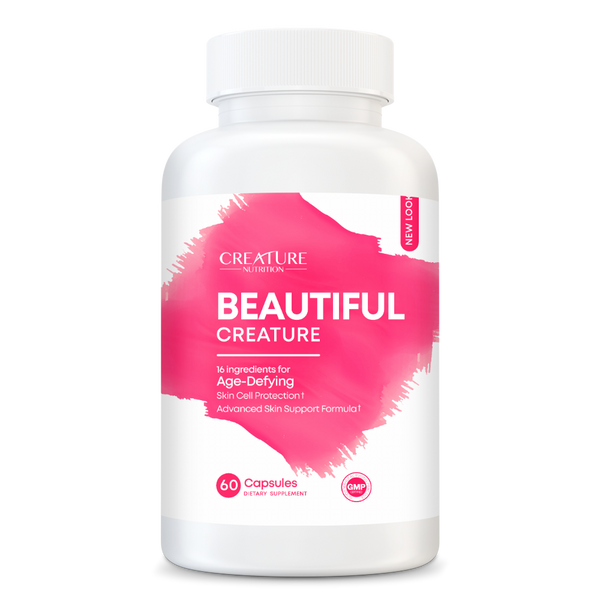 BEAUTIFUL CREATURE - Age Defying Skin Cell Protection
Age-defying ingredients work around the clock to encourage:
Beautiful skin, hair and nails,
Brain health and vitality,
Strong bones, muscles, joints and teeth,
Protection against oxidative stress,
A healthy immune system,
Optimum nutrient absorption and metabolism.
Naturally improves skin tone and tightness. Reduces wrinkles.
Many of us, women and men, think that natural is better when it comes to our skin. Organic natural health-giving foods are certainly going to pay off when it comes to showing off a healthy skin and body. But how would you love to find a product that is all those real organic fruits, veggies, the good fats, and supplements, all wrapped up in a supplement that will feed your skin day and night? There are top skin experts that have designed Beautiful, nutrients working silently from within, doing literally wonders for your face; natural wonders that go to war on breakouts on the skin, irritations, sun damage, and more! Today, what a lot of beautiful skin has in common is the obvious look of health and even a model's skin tone will give a hint on the healthy lifestyle she or he leads or not. The healthy look is popular today; it's what women and men want to achieve. They are looking for cleaner, all-natural products – let's look at the products in this Beautiful skin supplement and see what you are feeding your skin.
Vitamin A (beta carotene): Beta carotene converts into vitamin A, so vital for maintaining healthy skin. It has the ability to prevent premature skin ageing because it acts as an antioxidant. Antioxidants reduce oxygen damage caused by pollution, UV light, and other environmental hazards. Not only will beautiful skin be revealed when you take this supplement, but healthy mucus membranes, better vision, and a healthier immune system is promised – no wonder skin will glow in thanks!
Vitamin C (ascorbic acid):  Vitamin C (ascorbic acid) has antioxidant properties. Its role is to synthesize collagen which makes vitamin C so vital for skin strength and structure. Some studies show that vitamin C may help to prevent and treat photo-damage from ultraviolet (UV) rays.
Vitamin E (d-alpha tocopheryl succinate): This wonderful healthful product for the health of body and face has just got too many benefits to mention. It works like sheer magic because it is loaded with antioxidants, protecting the skin from harmful free radicals. Vitamin E protects the skin from acne and other related scars. When used in combination with vitamin C, it protects the skin from harmful UV rays, moisturizing the skin because of its richness in tocopherols and tocotrienols. These are what give the skin a hydrated, glowing look. Vitamin E also contains anti-inflammatory properties, boosting skin regeneration, as dead skin cells make way for fresh new ones.
Niacinamide: Your skin will relish in Niacinamide as an ingredient to Beautiful. This ingredient stands out because of its versatility for different skin types. It's also known as vitamin B3 and helps to improve the appearance of uneven skin tone, enlarged pores, dullness, weakened skin surface, and fine lines and wrinkles.
Resveratrol (from 20 mg of Polygonum cuspidatum): Resveratrol is a natural anti-oxidant that you will find in grapes and red wines whilst polygonum cuspidatum is an herb which contains quite significant amounts of resveratrol. Read about the wonders of this little herb, not only on the skin but on your health as well; suffice to say that your skin will revel under the soothing anti-oxidant and anti-inflammatory benefits resveratrol which polygonum cuspidatum brings.
Alpha Lipoic Acid or ALA is found naturally in our cells, helping with energy production. When taken internally, because it is water- and fat-soluble, it is so easily absorbed through the layers of the skin, fighting free radicals in the cell plasma membrane. Bet you didn't know ALA is 400 times more powerful than vitamins E and C combined, even though both are so well known for their antioxidant properties.
Aloe Vera leaf: This ancient Biblical plant contains heaps of enzymes, antioxidants, vitamin A and C, as well as being highly anti-inflammatory. Studies continue to prove all the benefits from the Aloe Vera leaf. Whether it is drunken or eaten raw, the leaves contain 99.5% of healing water holding a bounty of both water- and fat-soluble vitamins, minerals, polysaccharides, enzymes, phenolic compounds, organic acids, as well as glycol-nutrients that nourish not only your skin, but your entire body..
Collagen is a protein found in the skin and our other connective tissues. It promotes vibrant and glowing skin, providing it with elasticity as the skin ages, plumping it up to help it regain its youthful look. Sounds like an absolute must in skin care!
Green tea leaf: Green tea comes from the leaves of the Camellia sinensis plant. Apart from health benefits to the brain and heart, when taken internally, see the wonders it performs on the body and the skin:
Promotes DNA repair.
A powerful antioxidant, fighting DNA damage from UV rays.
Anti-aging.
Anti-inflammatory with a high content of catechins which reduce redness, swelling, and irritation.
Antibacterial, for clearing acne, fighting infection, and packed with vitamins B2 and vitamin E.
The tannins and caffeine in green tea help to shrink the blood vessels around the eyes, working its magic on dark circles and puffy eyes.
Grape seed, like mature red wine, is worth toasting as well. Full of flavonoids and antioxidants, it improves the skin's texture, reducing the signs of aging. It protects against sunburn and damage because it contains resveratrol and antioxidants. The St. Helena Institute for Plastic Surgery says in their research that there was an 88% improvement in skin texture of clients who took supplements containing grape seed extract in just 6 weeks.
Green coffee bean (50% extract) adds moisture into your skin with green coffee bean extract. Not only is it packed with antioxidants, but the green coffee bean is rich in fatty acids as well as esters, all nourishing and moisturizing to the skin, preventing sagging (yay!) and other damage.
Hyaluronic acid occurs naturally in our bodies and skin. But as we age, this all depletes and we need to put back what has been lost. Hyaluronic acid is what provides lubrication to all our joints and connective tissues of our bodies and that means our skin too. It is said that supplementing with powerful hyaluronic acid into your body is known to prevent all these age-related health problems.
L-Glycine: One of the essential amino acids, every day we use glycine to strengthen our bodies, and that means our skin too. Glycine is also found in the human body, the key amino acid to form gelatin and collagen. Plenty of healing from L-Glycine.
L-Glutathione: Glutathione is an antioxidant found in our cells, the ones that neutralize free radicals and boost the immune system. Taking L-Glutathione detoxifies the body of unwanted chemicals, drugs, and pollutants. It can lighten the skin, too, even more so when taken with vitamin C, because it converts melanin to a lighter color and prevents signs of skin aging.
Turmeric (95% curcuminoids) (rhizome): Packed with anti-inflammatory qualities, turmeric calms the skin and reduces scarring, preventing acne breakouts. As a wonder food, it can also perform wonders to the skin!
Lycopene is a very special carotenoid, defending the skin against aging because it assists so much in the growth and repair of the skin. All the carotenes in lycopene protect your skin from overexposure to UV light damage making it a true weapon in the battle against skin aging.
Naturally Beautiful
With the growing demand for pure and green products when it comes to looking after our bodies and our facial skin, there is huge awareness today of what goes into our bodies, and that includes supplements – to avoid all the nasties that can cause allergies, break-outs, and more health and beauty problems. Men and women today want bodies bursting with health and vitality and because of that, their skins are thanking them through glowing skin oozing health, vitality, and beauty. They are prepared to go out of their way to find cleaner products for their bodies and skin. Beautiful is beautifully designed towards that end, to keep those who invest in it, beautiful from within and without!
60 Capsules.